Originally from Vancouver, B.C., Canada, Maureen Chin was first introduced to beading by her mother, who showed her a few basic techniques.  Inspired to learn more, Maureen joined The Bead Society of Greater New York where she became an active member for over 10 years.  During that time she took classes with many distinguished bead artists and later found she wanted to share her knowledge and passion for beading and began teaching.  She taught at many venues in the New York area and at the Bead & Button Show.
Maureen works primarily with seed beads, but has an affinity for glass leaves, flowers, crystals and anything that sparkles!  Both bling and her love of color are always apparent and incorporated into her designs.
Maureen currently resides in Cary, North Carolina with her husband and two spoiled Birman cats.
PUBLICATIONS
1000 Beads (500 Series) by Lark Crafts, page 182
Bead & Button Magazine – April 2014, page 13, Speaking with Color Challenge winner
Showcase 500 Beaded Jewelry by Lark Crafts, page 374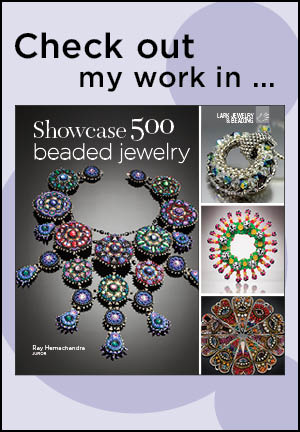 MEDIA
Beadwork Magazine Beaded Bead Contest
Fire Mountain Gems ad featured in Interweave Crochet (Winter 2009) and Flow Magazine (Spring 2010)
2012 Bead-It-Forward Quilt Square
2010 Bead-It-Forward Quilt Square
EXHIBITIONS
World of Beads II New York, NY 1999
World of Beads IV New York, NY 2001
World of Beads V New York, NY 2002
World of Beads VII New York, NY 2004
TEACHING EXPERIENCE
The Bead Society Of Greater New York, New York, NY
YWCA Crafts Student League, New York, NY
Beads By Blanche, Bergenfield, NJ
Long Island Bead Society, Massapequa, NY
Bead & Button Show 2003, Milwaukee, WI
Capital Area Bead Organization (CABO), Raleigh, NC